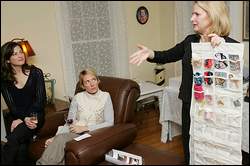 Velvet S. McNeil / The Detroit News
Remade your career?
Did you switch from engineering to sales? Escape the boss from hell? Use your severance pay as seed money to start a small business? The Detroit News wants to hear from readers who've successfully remade their jobs, professions and careers for future stories. To tell your story, e-mail Personal Finance Editor Brian O'Connor at
boconnor@detnews.com
.
Karen Eschebach
Home:
Grosse Pointe Shores, married with a 6-year-old daughter
Born:
Detroit, 1964
Education
: Redford Union High School, Associate's Degree from Oakland Community College and Bachelor's Degree in applied science from Central Michigan University
Old career:
Data processing at EDS and Ford Motor Co.
New career:
Contain Yourself, a direct-sales company that specializes in organizational products, (
www.contain-yourself.net
)
Work tips
Career coach Prudence Cole of Grosse Pointe is co-author of "Finding Power, Passion and Joy Being at Work" and author of the Web site beingatwork.com.
This story highlights some of the issues that can come with entrepreneurship. A lot of people say they want to have their own business, be their own boss, do their own thing. Just be sure you have the fortitude to pull it off.
As I said before, you have to love what you are doing in any job to be really successful, but in your own business, it is the difference between life and death. Being an entrepreneur is 24/7, especially if you are doing it out of your home.

Understand what it means to have a partnership. If you go the route of a partnership be sure you are clear about why and how. Do you plan to share equally in the investment, energy, time commitment and problems? What do each of you bring to the partnership that together makes you better? Get everything in writing and make sure you have a defined issue resolution and partnership abandonment process.

Recognize your lifestyle needs. If your situation requires you to work part time, at nontraditional hours, close to or in the home, recognize the impact that will have on the business.

Part-time work means it will take longer to achieve results. Working different hours may not work if your client base is only available during the day or they need you when you have family commitments.

Related Articles and Links
Administrator poised to implement early retirement

Money, Money, Money

It's a complicated topic. You've got questions, worries and concerns -- but we've got answers. If your bottom line needs some help, apply for a free Money Makeover from The News. You receive a free consultation and financial overview from a certified financial planner. All you have to do is let The News publish some of your information and your picture. To be considered, send your name, address and daytime phone number to MoneyMakeover@detnews.com. Please include a brief description of your money questions and goals.

MONEY-MAKEOVER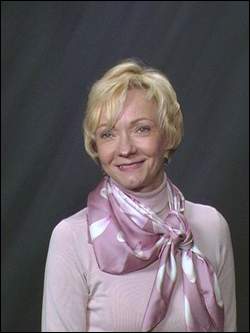 Walk into Karen Eschebach's home, and you'll notice there is a place for everything, and everything is in its place.
That's because the former personal organizer has a knack for finding everyday items a home. Her next project is helping others do the same. Last year, Eschebach founded Contain Yourself -- a direct sales and party planning company that demonstrates and sells products that help organize a person's home and simplify their lives.
Where she came from: Eschebach went from Redford High School to Oakland Community College, where she received an associate's degree. She went back to school at Central Michigan University to get a bachelor's degree in applied science.
From there, Eschebach enjoyed a relatively long career, spending 12 years at EDS and five more at Ford Motor Co. in data processing.
What changed: As the old saying goes, having a baby changes everything. Eschebach and her husband welcomed a baby girl into their family in August 2000. In an effort to spend more time with her daughter, Eschebach tried a number of hats -- an eBay consignment business, working as a personal organizer -- but nothing seemed to stick.
Moment of truth: Eschebach had a brainstorm while attending a Pampered Chef direct-sales party in July 2006.
"I realized there was nothing out there like this for organizing. So I decided to do it," she said.
She researched the subject with vigor, filling a spiral notebook with ideas. She dragged her laptop computer along on a family vacation and devoured books about cosmetics guru Mary Kay Ash and Pampered Chef founder Doris Christopher. She also hired a Grosse Pointe Park firm, Frontier 3 Advertising, to help her create a brand for her new company, including a logo, motto and packaging.
The result was Contain Yourself, and its motto of "It's not just the product. It's the process."
Stumbling blocks: One challenge was the realization that she may not have the resources to make Contain Yourself a reality. Her doubts arose after attending the Washington, D.C. meeting of the Direct Selling Association and comparing herself to most of the successful entrepreneurs there.
"I didn't have millions of dollars. I didn't have a warehouse. I didn't have a full, glossy catalog," Eschebach said. Another obstacle came when Eschebach's friend and original business partner decided the timing just wasn't right for her. Eschebach accepted her decision with regret and eventually approached another woman, friend and fellow Grosse Pointe-area stay-at-home mom Jennifer Weaver. A new partnership was born.
"I couldn't do it alone," Eschebach said. "It's always great to have another person evaluate things. Plus, we're using her basement as our world headquarters."
Words of wisdom: Eschebach believes the key to success for Contain Yourself is discovering unique products and creating one-of-a-kind organizing tools. She and Weaver have put their own money into the business, a definite sacrifice. They feel the investment will pay off in the end, and it keeps them focused on the process at every stage. This March, Eschebach and Weaver will attend the International Home & Housewares Show in Chicago, where 37 percent of the products are related to organization. That is just one more sign to Eschebach that she is headed in the right direction.
Karen Dybis is a Metro Detroit freelance writer. You can reach her at kdybis@comcast.net.