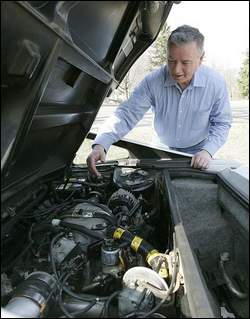 Charles V. Tines / The Detroit News
"This is a big step." - Larry Magaw, who will retire early but worries about his nest egg.
See full image
Deal or no deal?
Consider this before taking a buyout:
Your family budget:
Can you cover your expenses with your retirement payments? How will you pay bills if you need to find another job?
Your debt:
Are your finances in shape for an early retirement?
Your next job:
Check out pay rates and demand before changing jobs or careers, especially before paying for retraining or tuition.
Staying put:
How secure is your job if you stay? Do you have skills or seniority that will help keep you employed?
Making a plan:
Sitting down with a financial planner, money manager or other trusted adviser may be the best way to get objective advice.
Getting help:
An independent, fee-only financial planner can help you reconcile your options with your financial needs. You can find a directory of planners approved by the Certified Financial Planner Board of Standards at
www.cfp.com
or www. fpanet.com. Planners charge for their services, ranging from $75 to $150 an hour.
Financial workshops:
The Michigan Council on Economic Education offers retirement and financial planning workshops covered under UAW tuition assistance programs.
Retirement workshops are forming at UAW Local 653 in Pontiac, UAW Local 160 at the Warren Tech Center,; and at Marygrove College and all three Walsh College campuses.

Other financial planning workshops also are being offered. For details and registration, call (248) 596-9560, Ext. 1000, or send an e-mail to ted@mceeonline.org.
Source: Detroit News research



Facing a buyout, what would be your greatest concern?


Click here to vote
About the offers
The GM-Delphi-UAW deal offers workers several retirement or buyout options. An overview:
Retirement offers

GM and Delphi workers with 30 years can take $35,000 to retire now. Those with 27-29 years can get a monthly salary of up to $2,900 until they reach 30 years and then retire; at some plants, workers with 26 years are eligible.

Delphi employees eligible for the retirement offer can "flow back" to GM and retire from there.
Buyout offers

GM workers with 10 or more years of seniority can take $140,000 to sever all ties with the company.

GM workers with fewer than 10 years can take a lump sum of $70,000 to sever all ties.\
Other offers

As many as 5,000 Delphi workers can transfer to GM.

Related links

UAW Local 1866 report to membership on Delphi proposals


Letter from Henry Richard, chairman of the IUE-CWA Automotive Conference Board, to Kevin Butler, Delphi director of human resources


Delphi to dismantle contracts, UAW says


Delphi offers $50K bonus for wage cuts


Feds put heat on ex-Delphi executives


Workers mull whether to gamble on buyout


Michigan, GM likely to be stronger after buyouts


Praise, caution greet deal


About the offers on the table


Brian O'Connor: Should you take the deal?


GM, Delphi,UAW reveal buyout agreement


Delphi Medical sparks sales
Related links

GM board backs Wagoner


Does GM have cash to fund comeback?


GM sticks to pricing plan


Buyouts could leave thousands uninsured


Michigan, GM likely to be stronger after buyouts


GM salaried workers in U.S. await layoffs on 'Black Tuesday'


Automaker's downsizing aims to ensure survival


About the offers on the table


Podcast: Business columnist Daniel Howes analyzes the bigger picture for GM


UAW memo on buyout plan (.pdf)


Daniel Howes: GM plan is a bold step to solving Delphi puzzle


Automaker's downsizing aims to ensure survival


Praise, caution greet deal


Buyout a mixed deal for UAW


Editorial: GM buyouts reduce costs, but more reforms needed


GM, Delphi,UAW reveal buyout agreement


GM buyouts: $35K to $100K+


GM loses $4.8 billion in the fourth quarter


Kerkorian buys back GM shares


GM's Lutz: Don't cut exec pay


GM's big gamble


Track GM stock


GM stock history
Related Articles
Ankur Dholakia / The Detroit News
"It's not worth it. Thirty-five thousand — I can make that much in three months." - Louis Horvath, who plans to retire in 2007.
See full image
For more than 100,000 U.S. factory workers, the historic buyout deal brokered by General Motors Corp., Delphi Corp. and the United Auto Workers comes down to a simple choice: Keep working and risk losing their jobs down the road, or take the money and run.
Simple, but not easy.
They are the last generation of autoworkers who expected to punch in at one company their entire working lives and be rewarded with hefty wages -- many can earn more than $100,000 a year with overtime -- and comfortable pensions.
For them, the buyout offer essentially represents a broken promise -- the promise of a job for life. They greet that fact in varied ways. With stubborn refusal. With dreams of a new career after decades of factory life. With hopes of transferring to a job given up by another.
The buyout program is one of the largest in corporate history. All of GM's U.S. factory workers -- 113,000 -- can take cash incentives ranging from $35,000 to retire early, to $140,000 for workers with less seniority to simply leave the company.
At Delphi, GM's former parts unit, 17,000 U.S. hourly workers can take $35,000 to retire. Of those not eligible, some hope talks related to Delphi's bankruptcy involving Delphi, GM and the supplier's unions will end with a cash offer to leave.
Others want to be among the 5,000 UAW workers GM has said can transfer to the automaker. Still others are scrambling for jobs at factories that will stay open as Delphi restructures, even if it means a deep pay cut.
They all face deeply personal choices.
"When you get a buyout, you're now in the driver's seat, you're now responsible for your career," says career coach Prudence Cole of Grosse Pointe, who runs www.beingatwork.com.
"You can choose to stay or you can choose to leave, but it's all about you. That can be fearful, but it's an opportunity to decide what's important for you."
At GM and Delphi, some workers will insist on staying. Some won't be able to cash out fast enough. The rest will go with their guts and hope for the best. But they are all weighing the money against the risks, and their hopes against their fears.
You can reach Louis Aguilar at (313) 222-2760 or laguilar@detnews.com. You can reach Brian O'Connor at (313) 222-2145 or boconnor@detnews.com.