Have you remade your career?
Did you switch from engineering to sales? Escape the boss from hell? Use your severance pay as seed money to start a small business? The News wants to hear from readers who've remade their careers for future stories. To tell your story, e-mail Brian O'Connor at
boconnor@detnews.com
.
Pamela Valdez
Home:
West Bloomfield; married with three children
Born:
Honolulu, 1975
Education:
Sylvania Southview High School, Sylvania, Ohio; Michigan State University
Old career:
Pharmaceutical sales
New career:
Owner of Buddha Belly Maternity in West Bloomfield
Work tips
Whether it's your own change of heart or company's change of business, few young people have just one career path.
"Picking a long-term career in your early 20s is nothing more than a guess," says career coach
Prudence Cole
of Grosse Pointe, co-author of "Finding Power, Passion and Joy Being at Work" and author of the
http://www.beingatwork.com/
. She offers these insights:
Today more than ever, you do not need to stick with a career choice that no longer works. Our world is about continual change and what is interesting and relevant today may not be 10 or 20 years from now. Look around you. How many people do you know who are doing the same work they were doing when they graduated from college?

Build on what you've learned from each career step. No matter how radical the career change, you have gained experience and knowledge from your past positions. Don't waste these skills; leverage them in a new way.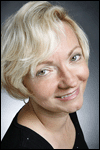 Today's Most E-Mailed Stories
Call Pamela Valdez's new business an accident of birth -- just not hers.
The 32-year-old West Bloomfield woman had just been laid off from her job selling drugs for Pfizer Inc. when she strolled into Buddha Belly Maternity. Valdez had shopped there when she was expecting and was friendly with the owner, who told Valdez she was pregnant with twins and had decided to sell the store.
"The first thing that came out of my mouth was, 'You can't! This is a great store!' " Valdez says. "Then I thought, I can take what I learned at Pfizer and I can do it for Buddha Belly."
Valdez took over the store in March. "So far," she says, "it's been wonderful."
Where she came from:
Valdez originally planned on a career in medical research. After studying physiology and genetics at Michigan State University, she decided to pass on going to medical school and worked as a labora-tory technician in research and development.
The only problem with the work was that she hated it.
"I did not want to be in research at all," she says. "I was a lab rat for quite a while, but my personality wasn't conducive to it. I needed to talk to someone other than Petri dishes and Bunsen burners all day long."
What changed: Valdez had a friend whose father worked for Pfizer, and she asked him to pass along her resume.

"It was a great job," she says. "It paid well, the benefits were great, and my customers were great. It was almost like running my own business: I had my own territory and it was very flexible."

But business faltered at Pfizer, and the firm laid off 10,000 workers, including more than 2,000 in Michigan.

"I'd won numerous awards and was in the top 10 percent in the nation for a couple of years," Valdez says. "So, when I got the pink slip it was quite a shock."
Moment of truth: Valdez was told she was being laid off just before Thanksgiving. "I wasn't sure that I wanted to go pushing pills again," she says. "I really didn't want to go on job interviews because I would be competing with hundreds of people for pharmaceutical sales jobs."

Feeling glum, she decided to treat her blues with some retail therapy. After visiting a nearby store, she popped in to Buddha Belly and found her new career.
Stumbling blocks: Valdez worked with an accountant and lawyers, negotiated a price for the business and combined her Pfizer severance pay with a bank loan to purchase the store.

One challenge was learning the details of inventory, she says.

"The great thing was that the owner was very patient with me and taught me how to do everything," Valdez says.

She has adjusted some of the merchandise lineup and has focused on making the store a comfortable environment for mothers-to-be who are shopping with kids or husbands in tow.
Words of wisdom: Be ready to take a risk if you're going to have your own business, Valdez says. She admits that she had plenty of sleepless nights while negotiating and setting up the finances to take over the store.

"Call me stubborn," she says. "I guess you have to be a real risk-taker for some things, and if you're not a risk-taker, then this isn't for you."

The key, she says, was the confidence she had built from her success selling millions of dollars worth a year in her old sales job.

"If you have a strong feeling for it, and you know you've been successful, then you can be successful in other things, too."

You can reach Brian O'Connor at (313) 222-2145 or boconnor@detnews.com.