Todd McInturf / The Detroit News
Have you remade your career?
Did you switch from engineering to sales? Escape the boss from hell? Use your severance pay as seed money to start a small business? The Detroit News wants to hear from readers who've successfully remade their jobs, professions and careers for future stories. To tell your story, e-mail Personal Finance Editor Brian O'Connor at
boconnor@detnews.com
.
Paula Kozey
Home:
Harrison Township; married with one son, 17
Born:
Detroit, 1965
Education:
Adlai Stevenson High School, Sterling Heights, 1983
Old career:
Asset remarketing manager for a bank
New career:
Owns Michigan Auto Title Service Inc. in Shelby Township
Work tips
"The reason people choose to start their own business runs the gamut from 'I have a great idea' to 'Nobody is going to tell me what to do,'   notes career coach Prudence Cole of Grosse Pointe, co-author of the book "Finding Power, Passion and Joy Being at Work" and author of the Web site
http://www.beingatwork.com/
. Whatever the reasons, she offers a few key issues to check before choosing that path.
I am a self-starter. No one needs to tell me what to do. I have a high energy level and am very optimistic. I see opportunities, not problems.

I have a vision. My idea for a business is not only brilliant but also needed. I understand the market and the customers' needs.

I have adequate financial resources. I recognize that most new businesses require a large infusion of cash at the beginning. I have resources to support myself as well as a source of investment money.

I am not flummoxed
by hard work, paperwork and red tape. I know that early on I will do a lot of work myself and that I have to ensure I'm working legally and ethically.

I can withstand rejection. I am so convinced and committed to this business that no naysayer can stop me. No matter how many potential customers reject me I know that my business concept will prove valid.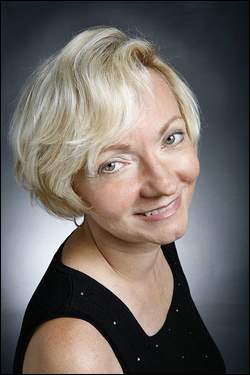 Todd McInturf / The Detroit News
Today's Most E-Mailed Stories
It took Paula Kozey all of one second to become a multimillionaire.
Yes, it was 18 months before the 42-year-old Harrison Township woman drew a single dime out of her business. Yes, she worked out of her mother's basement for years. And yes, she wanted to ditch the whole idea more than once.
But it was in one second that Paula Kozey went from bank clerk to businesswoman.
Where she came from:
Kozey started at the bank a year after graduating from high school in Sterling Heights. At first she worked in the credit-card department, then moved into the repossession area. The job involved handling paperwork to transfer the titles of repossessed cars from the defaulted buyers back to the bank, so that the bank could legally sell the vehicles.
Over 13 years, Kozey moved up as the bank changed hands, eventually acquiring the title "asset remarketing manager."
"It was job security. You were comfortable in your position, so why move?" Kozey says. "I think everybody gets stuck in a rut, but I'm glad I stayed and I'm glad they merged. If they hadn't I wouldn't be the business owner I am today."
What changed: Kozey's career started at what had begun as the National Bank of Detroit before the bank cycled through a series of mergers. By 1999 it was turning from First Chicago/NBD into Bank One, and Kozey managed the department that transferred titles of repossessed cars.

Now her work was being transferred to some sun-drenched suburb in Arizona, which seemed to pose a problem.

"We had to talk to the people in Arizona on a daily basis," Kozey says. "I couldn't imagine how somebody in Arizona was going to be able to order a title and sell a car in Michigan so I asked, 'How are you going to do my job in Michigan?' "
Moment of truth: The answer was that the bank planned to farm the work out and eliminate Kozey's job.

"She said, 'We use title agencies all over the country,' " Kozey recalls, "so I said, 'I'm a title company. I can do that.' "

The voice on the other end of the phone agreed. "She said, send us your tax ID number and we'll be your first client."

Looking back on it, Kozey says, "Her reply was what made me a multimillionaire. I firmly believe if I had not asked that question I would have never known what was going to happen."
Stumbling blocks: Once an accountant friend explained what a tax ID was, Kozey got one and was in business, typing the forms on a relic of a typewriter in her mom's basement. She handled 100 titles on a good month, but had no overhead other than paying the department of motor vehicles fees which she then billed to her client.

"It was literally just finding a tax ID number," Kozey says. "I lived with my mom so I didn't have rent, I didn't have any bills and I had my severance pay coming in. So it was pretty easy."

Kozey married a year later, and her firefighter husband, Todd Wysocki, had time to learn the business on his days off. Once her severance pay ended, his paycheck kept them going, she says.

After Wysocki was injured on the job, he joined the business. They started expanding, and like a lot of small business, ran into a lack of capital when they needed to front the money for DMV fees. Every dollar that came in went right back into the business.

"I would tell my husband, 'I'm going to go out and get a real job,' but he kept telling me, 'It's working, don't give up.' "
Words of wisdom: Thanks to word-of-mouth, some advertising and a good reputation, Kozey picked up the phone one day to find someone from one of the big automaker's financing subsidiaries on the other end. Just like the bank had done to her years before, they were looking to outsource title work on repossessed and leased vehicles.

"I don't know how they found us," Kozey says. "They called and we were just ecstatic. When we met with them they told us, we're going to make you guys millionaires one day. It was a joke, but they're our biggest client and we're their only title company."

One issue she struggled with was finding good employees. Now Kozey is very happy with her staff of 17, though it took awhile.

"Every business owner says the same thing -- good help is hard to find -- and it's true," she says.

For anyone else striking out on their own, Kozey advises having some other source of income, as she did when her husband was still fighting fires.

"To both jump in to the business, that would have probably been suicidal," she says.

An even bigger help was her husband's encouragement.

"I owe a lot to my husband for keeping me level-headed," Kozey says. "Having someone there who can keep you grounded and looking up is a big help."

Ultimately, though, Kozey says the fact that it's your own business is a big motivator.

"I think it's everybody's dream, the American dream, to have your own business," Kozey says.

"I would look up when I was a little girl at everybody's signs and think how neat it would be to have my own business."

You can reach Brian O'Connor at (313) 222-2145 or boconnor@detnews.com.